One game system – every genre – countless worlds – endless adventure
By Kevin Siembieda
We have been working on many fronts: new books, The Rifter® #78, convention support, fan outreach and advertising mostly this week. Wayne has posted a full description of the 2018 Palladium Open House in the store. He has also made several book titles available as PDFs the last few weeks, with two this week, two next week, and more planned for the weeks ahead.
We've also been shipping books like crazy. Secrets of the Atlanteans™ is burning hot. In fact, the popular game lines this week have been Rifts®, Palladium Fantasy RPG®, Heroes Unlimited™ and Dead Reign®. I also had the opportunity to speak with James Bond this week. Cool, right? He's not 007 or licensed to kill, but rather James is a real person. Fun for me, probably not so much fun for the guy who has the same name as a famous, fictional character. I'm a huge James Bond fan and I have seen every movie and read a few of the 007 books. So it was a silly pleasure to learn that James Bond is a big fan who enjoys all our RPGs, particularly Rifts®. Hey, gotta find fun in the little things.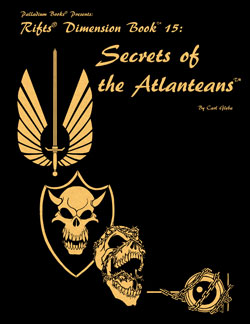 UPDATE: Rifts® Secrets of the Atlanteans™ "Gold Edition" Hardcover – available now
The Rifts® Secrets of the Atlanteans™ signed and limited Gold Edition is a popular item. It is $50, makes a nice birthday or Christmas gift, and is signed by the Palladium staff. Limited to 300 signed and numbered copies. The gold imprint of the magic tattoos on the faux black leather looks downright magical and classy. Based on the popularity of the softcover edition, I believe the Gold Collector's Edition will be a fast seller, especially as we get closer to Christmas. If you really want one, I would order it over the next five months, before it is gone. Sold on a first come, first served basis. The earlier you purchase, the lower the number. Available now.
UPDATE: Rifts® Secrets of the Atlanteans™
Rifts® Secrets of the Atlanteans™ is hot and should be hitting store shelves this weekend, so watch for it. If you can't find it, have your store place a "back stock" order to insure their distributor gets it back in stock quickly. FYI: Author Carl Gleba will be at the POH to game, sign books and chat.
Please take a look at the free preview on DriveThruRPG.com to get a glimpse of everything this resource-packed book has to offer. $24.95 retail. And if you don't already own them, we highly recommend you pick up Rifts® World Book One: Atlantis, World Book 21: Splynn Dimensional Market™ (both filled with great source material) and Rifts® Dimension Book 7: Megaverse® Builder (also written by Carl Gleba), as all are useful companions to Rifts® Secrets of the Atlanteans™. Please keep those orders coming.
UPDATE: Nightbane® Dark Designs™ sourcebook – Available now
Nightbane® Dark Designs™, stats and creation tables for the Ancient Nightbane, 60 new Common Talents, 38 new Elite Talents, Talent creation rules, 18 comprehensive Mortphus Tables, plus tables and Talents from prior books collected in one volume. Remember, Talents and Morphus abilities can be easily turned into magic spells and super abilities for other world settings — and vice versa, made especially easy with the conversion rules in Dark Designs™. Take a look at the free preview on DriveThruRPG.com to get a glimpse of everything this resource-packed book has to offer. FYI: Author Mark Oberle is one of the 30-40 Palladium personalities attending the 2018 POH.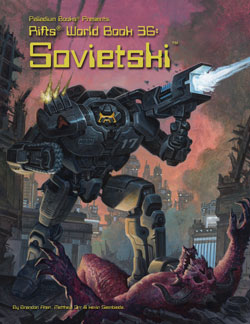 UPDATE: Rifts® Sovietski™ – coming soon
A nice John Zeleznik cover for another resource packed title. Rifts® Sovietski will be ideal for use with the Triax books, Warlords of Russia, Mindwerks and other European locations.
UPDATE: Dead Reign®: In the Face of Death™ sourcebook
I put down some additional notes for this book when ideas sprang out of nowhere this week. I think this title, like Hell Followed, is going to please and surprise a lot of people.
UPDATE: The Rifter® #78 – in final production
The Rifter® #78 is coming along nicely. I believe Charles Walton and other artists are all done with the art for the issue. Now it's time to typeset and layout. This is another great issue with a range of awesome source material for Palladium Fantasy®, Rifts®, Splicers®, and Beyond the Supernatural™, including Greg Diaczyk's BTS Modern Necromancer, plus G.M. advice, news and other goodness. ALL of it adaptable to just about ANY game setting.
UPDATE: The Rifter® #79 – coming soon
The Rifter® #79 should quickly follow #78 as we work to catch up with this useful series. If you haven't looked at an issue of The Rifter®, we recommend it. Each issue is filled with optional (sometimes "official") source material. More importantly, most of the material can be easily modified and adapted to ANY game setting, especially adventures, monsters, villains, magic and technology.
Robotech® RPG eBooks on Amazon and iBooks – available now
Don't forget, we have made current Robotech® core RPG titles available as ebooks. Palladium Books' Robotech®: The Shadow Chronicles® Role-Playing Game, Robotech®: The Macross® Saga Sourcebook, and Robotech®: The Masters Saga™ Sourcebook are now available as eBooks, with more titles to follow. Robotech® RPG titles are available from the following eBook channels/sellers: iBooks (through iTunes), Amazon Kindle, Barnes & Noble Nook, Google Play Books, Overdrive.com, Copia (copiaclass.com), Gardners Books, Baker & Taylor, E-Sentral, Scribd, Ciando, Hoopla, Playster, and more.
UPDATE: 2018 Palladium Open House – April 20-22, 2018
I am delighted to see how many people are excited about the 2018 POH (Palladium Open House) and ordering tickets for VIP Thursday (April 19) and Weekend passes. Hey, come one day or all weekend, but come on over and game at the Palladium Books warehouse with me (Kevin Siembieda) and many of the people who create the games you enjoy. Unlike most conventions, most of the Palladium staff and 30+ creators are available to talk with you throughout the entire day. Bring favorite books to be signed, get the latest products and hang out with us for a weekend of fun and games. Note: A full description of the 2018 Palladium Open House is now available in the online store.
100+ Palladium gaming events.
Price of admission pays for all events.
Play in games run by Kevin Siembieda & other Palladium creators.
Enjoy Robotech® RPG Tactics™ tournaments, games, products and demos.
Participate in panel talks and many question and answer chats.
Bring your favorite game books to get signed.
Meet Kevin Siembieda and the Palladium staff.
Meet 30+ Palladium creators – the largest gathering of Palladium creators in the world! Most available every day, the entire day.
Meet fellow gamers from around the world.
Get new releases, back stock items and Palladium collectibles.
Get original artwork and limited edition prints, T-shirts and specialty items.
Commission select artists to draw your favorite character.
"Live" auction with rare collectibles and oddities.
Intimate setting, unlike big conventions.
Join the fun and make memories to last a lifetime.