By Kevin Siembieda
One game system – every genre – countless worlds – endless adventure
We've been burning the midnight oil writing, editing and working like demons here at Palladium. Rifts® Sovietski™ is finally going into the typesetting and layout stage. I have to say that this is an outstanding book which, like Secrets of the Atlanteans, is just packed with page after page of exciting ideas for adventures, dynamic O.C.C.s, D-Bees, cyborgs, and fun. This week I also received some freelance material for Rifts® Disavowed and the new manuscript draft for Rifts® Living Nowhere. Meanwhile, Wayne has the PDF of Old Ones for the Palladium Fantasy RPG® going live this week. All of us are working away on some project or another in a frenzied state of creativity to get new product into your hands. Read on for more details.
UPDATE: The Rifter® #79 – Available now
The Rifter® #79 includes some new and alternative methods, rules and approaches to Game Mastering and making adventures. Role-playing games are flexible expressions of your imagination and all about bringing ideas to life. This issue provides optional, alternative rules for putting modern characters in different time periods throughout history (can you picture that BTS psychic, Nightbane or superhero on a Victorian pirate ship or fighting for the Roman Empire?), plus more alternative RPG ideas by Julius Rosenstein, a closer look at the Heroes Unlimited™ Stage Magician, and the Kingdom of New Oslo, a nice companion to the soon to be released Rifts® Sovietski, and more.
UPDATE: The Rifter® #80 – Available now
Wayne is starting to make his selections now. Mark Dudley is lined up to do some art.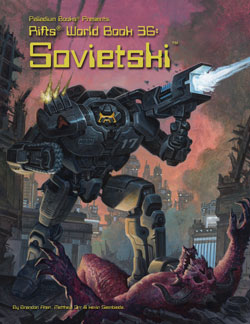 New! World Book 36: Rifts® Sovietski™ – ships February
Big books take time to do 'em right. Rifts® Sovietski™ is finally going into the typesetting and layout stage. And you are going to love this book.
Rifts® Sovietski™ is freakin' awesome. So much cool stuff: The Cold Born psychic (think Burster with ice and cold), the mysterious and powerful Yaganar, the yeti-like Wolverine People and other cool D-Bees, a bunch of very new and different cyborgs, a bunch of M.O.S. skill packages that make character creation fast and fun, tables for a character's background, unique characters, interesting places and back story that provides ideas for adventure and is a fun read. This World Book has it all. There is so much in this book that you are going to love. Everyone who has seen the finished sections of the Sovietski Soldier revisited, the Spetsnaz secret police/special forces, the D-Bees, the Religious Enclaves, and ... well, pretty much any of it, has gone wild over it. The first word out of their mouth being, "Wow." I think that's my favorite word for a critique of a book. Like Rifts® Secrets of the Atlanteans™ there is a lot of "Wow Factor" in Rifts® Sovietski™, as well as a lot of fun little touches that will make you smile and add spice to your character or your game.
Rifts® Sovietski™ is also the final puzzle piece that pulls together several other Rifts® titles to create a cohesive area of the world that offers new adventure opportunities. They include Warlords of Russia™, Mystic Russia™, Mindwerks™ (Poland and a slew of D-Bees, monsters and adventure hooks) and Rifts® Triax & The NGR™ and Triax 2™.
UPDATE: Rifts® Bestiary™: North America, Vol. One and Two
Chuck and I are already plotting our new "beasts." This book is coming together nicely too. It gathers and formats the existing beasts from the current World Books and Sourcebooks (and some new beasts to spice up your games) into two big reference books. As soon as Rifts Sovietski goes to the printer (next week?), I dive into the final edits for both volumes, finish work on the new creatures, and send them off to the printer.
These are just the first two of what we hope to be a series of sourcebooks that collect all the notable monsters, dinosaurs and creepy crawlers of Rifts® Earth. The focus of the Rifts® Bestiary™: North America, Volume One and Volume Two being creatures of North America (US, Canada and Mexico). Presented in alphabetical order, with maps showing their range and location, in two big books. On track for winter releases.
UPDATE: Rifts® Disavowed™
I recently spoke with co-writer Matthew Clements about Disavowed and received some material for it from another freelance writer just this week. I look forward to getting to the final writing for this title.
UPDATE: Rifts® Living Nowhere™
The new draft manuscript for this book arrived this week, though I have not had a chance to review it.
UPDATE: Additional VIP Night tickets For the Palladium Open House are now available.
VIP night at the Open House gets you an extra evening of gaming, first crack at special items, new releases, original art, early access to our many guests, and a delicious meal. This is always a fun, intimate night of gaming and hanging with the Palladium crew.
VIP Night always sells out before the event (limited to 120 VIPs) so we encourage you to reserve your ticket as soon as possible. It is because VIP Night always sells out that we deliberately hold back 40 or so tickets till now, so everyone has a fair shot at being able to get them.
Reserve your hotel room for the POH before they are sold out
Rooms at the Red Roof are getting close to sold out! Especially rooms with two full beds ($49.95 plus tax per night). When they are gone, your choice is a room with just one king bed ($49.95 plus tax per night) – or – our other, more upscale hotel, the Hampton Inn and Suites at more than twice the price ($119 plus tax per night). Both are 3 miles or less from the Palladium warehouse, less than 10 minutes away.
Note: The hotel reservation deadline is March 15, 2018, but the rooms are likely to sell out BEFORE that deadline, because we may have record attendance. Please reserve your rooms at one hotel or the other sooner rather than later. You have been given fair warning.